busy day
like
BUSY.
but thats a story for later in the week.
ill leave it at
Childrens Museum + Every kids Spring Break = CRAZY
So here i am.
Putting together my Wedding Wednesday
at the end of Wednesday
Today im thinking about Seating Cards.
I dont want to spend more than $20.
max.
i want them to be green
not green green the like color
but eco friendly
i dont want to have to throw away tons of cards after the partys over
but i also want to be sure that they arent an eye sore.
im thinking that i dont want to have them printed either. i like the idea of the handwritten cards.
so. after all of that.
here are my ideas.
these are from this gorgeous wedding.
old book page flowers.
recycled paper.
metal brads.
omigosh.
these are the highest on my
"im totally in freakin love list"
i think this would make for a good personal project to do on my own or an "assembly" line of bridesmaids.
i love the string and clothespins that hold these cards up.
i especially love that these cards use less paper!
woo!
maybe ill use recycled paper for these cards??
hmm.
OMIGOSH!!!
SYRUP!!
so these double not only as Place cards but as wedding favors too
you know. maybe a morning wedding with breakfast food would be awesome.
ideas?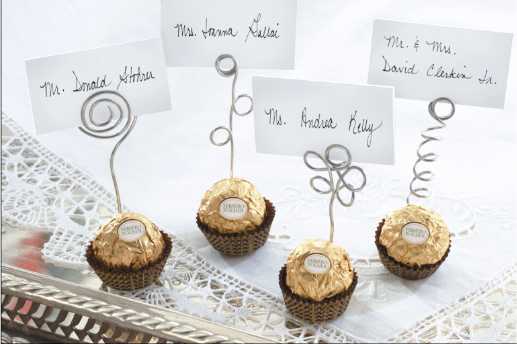 yum right.
wedcraft.com has a tutorial on this
and i want to eat it up
the twisted wire is fabulous
id love to have a table covered in one of the best chocolate treats ever
but
im pretty sure that buying enough Rocher chocolates for every guests would cost more that $20.
so.
although i absolutely LOVE this idea.
its a no go.
this lovely is from smock paper
in lieu of printing i thought maybe i could find a stamp
perhaps it might be too much work
in my wedding research i read that even if you are trying to save money on certain things,
you shouldn't make it too much work.
so i assume, spending more than 4 hours on making place cards is not worth it.
idk. perhaps if the girls helped me we could do it?
hmm.,
i just find this really pretty.
i love these gorgeous and
simple
cards
just like the one before im thinking these can be stamped
however UNLIKE the one before
this can be simple
just a simple cute stamp
and handwritten names
i can't express how much i LOVE handwritten names
holy moly me oh my!
ive found my true love
perhaps i can find two of these beautiful cases.
the twine, the vintage feel of the cards, the buttons on the darn cards
who doesnt love this?
i very much like these cards with the keys from
here
ive found a place to buy a bag of these keys
but they are new looking
so perhaps id sand them or maybe clean them with something.
not sure.
but i dont think id be able to find and save keys from second hand stores.
i never see any when im out shopping.
the ribbon can also be replaced with twine.
...or ribbon....
but i like twine
cute right?
this is a white card with the guests names on it.
attached to it is a brown paper bag with seeds in it
awesome right.
so your guests can take it home and plant something lovely.
i love this idea.
very simple, easy, &&
cheap
maybe on the back of the card it would have the instructions on how to plant them?
also i would change up the colors.
perhaps browns, yellows, greens,
i dont like the red.
more buttons.
i am actually in love with
this
whole wedding.
xoxo